Port Elizabeth Bed & Breakfast Accommodation in the Country Side
Whether you are on business, a tourist or even honeymooners you'll enjoy the stunning views across rolling hills out to sea and the Maitland River Mouth as your next stop over or for that perfect getaway. Our country location in the Blue Horizon Bay area affords stunning night sky star gazing - see the Milky Way like never before! We can assure you of a comfortable nights rest in our lovely log Chalets with full en-suite bathrooms and spacious balconies. Before you know it, you will be woken by the sounds of birds and trickling water. Explore the richness of the natural biodiversity, especially the abundant bird life associated with the farm and nearby Maitland river and its Draaifontein stream tributary, local forests and dams. Our resident birds, among many others, include the Narina Trogon, Black Cuckooshrike, Knysna Turaco, Olive Bushshrike, Blue-mantled Crested-Flycatcher, Black-headed Oriole and the summer visiting Eurasian Golden Oriole often located in the wild fig trees next to the chalets. To keep our air and environment clean and healthy, we have chosen to be non-indoor-smoking establishment and due to open water, natural country hazards, we regrettably do not accept children under the age of 10 yrs, Our Bed and Breakfast establishment is a 15 minute drive west of Port Elizabeth on the N2, off ramp 724, and 3 kilometres along the road to Blue Horizon Bay.
Features & Facilities
Indoor/Outdoor Pool
Free Wifi
Golf Tee Box – plenty practice balls – irons only
Tea/Coffee tray
Bar fridge/Microwave
Electric Blankets/Wall Heater/Fan/Iron/Ironing Board
Feedback from our Guests
We value feedback from our guests. Here are some of their comments.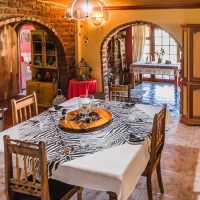 We stayed at the Mother Goose B&B for only 2 nights. But the impression will last a live time. It was an absolute pleasure to stay here! The chalets are comfortable and beautiful. The views are great and the hosts, Walter and Deline, are just wonderful. We enjoyed there company very much and they'll do […]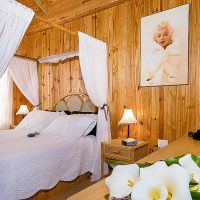 Having spent a night at Mother Goose a few years ago on a road trip, we wanted to make a return visit! Looking forward to a quality-time end-of-year coastal family break we booked for just over a week before Xmas 2016. It was just as we remembered and Walter and Deline are wonderful hosts! Breakfasts […]
Lovely peaceful holiday away from holiday season crowds!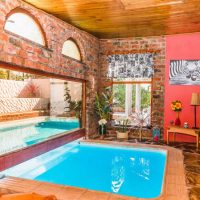 We have to thank the Passets for an absolutely wonderful stay in Port Elizabeth. From the comfort of the chalet and all the little extras to make it special to the warmth of their hospitality. To wake up and have our coffee on the deck overlooking the valley was so good for our souls. We […]
Can Only Describe it as Fabulous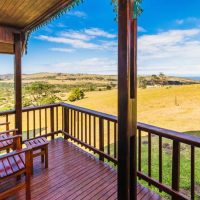 Spotless log cabin accommodation. Tranquil setting with great view of the valley.Friendly welcoming owners serve a full English breakfast with flexible times which suited us. Recommended for people wanting peace and quiet.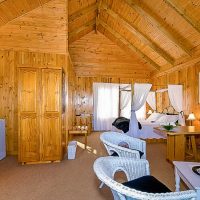 I have stayed a Mother Goose three times now, and feel that it is long overdue that I say something about this magnificent B&B run by Deline and Walter. The accommodation is in wooden chalets with everything you need right there in the spacious and spotless chalet…..
One of the best finds this decade!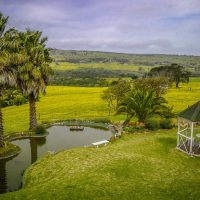 A few days ago we stayed for the 5th time since 2014 at Mother Goose Bed and Breakfast. That's saying a lot. We feel at home when Deline and Walter welcome us on their farm and wonderful wooden chalet. Clean, quiet and a wonderful view over the farmland has made our stay always special.
Feeling home on a typical farm location
What an amazing place. We were impressed from the minute we arrived. Our room was fantastic – views were stunning – breakfasts delicious. Thank you Walter and Deline for a memorable time in PE. Peaceful, relaxing and beautiful. We spent three nights here – wished it was longer. We will definitely return.
Absolutely fantastic – highly recommended
Mother Goose B&B Gallery
Some photos of Mother Goose B&B near Port Elizabeth
Contact Us
Get In Touch With Us
Call Us At
Cell : 082 807 7202
Mother Goose B&B Chalets - Port Elizabeth.